---
Press Release
Paris, 1 November 2023
---
Today, we are launching Jus Connect 2.0.
In all transparency, the 2.0 is the real 1.0 for us. We added a new interface, smarter search capabilities, and improved analytics for total case count. Jus Connect aspires to elevate the selection process of legal professionals with data insights while also paving the way for professionals to thrive and capitalize on revenue opportunities. Our work isn't over, but we are thrilled to share this major milestone with you.
The old way of selecting the ideal arbitration professional, particularly in foreign jurisdictions, has been fragmented. And selecting the ideal arbitration professional is not just one checkbox on the criteria list. Its track record, firm reputation, industry expertise, years of experience, including individual experience on a specific legal issue — all of this is currently verified predominantly on word-of-mouth, rankings, and existing networks, resulting in a restricted candidate pool, sometimes conflicted.
The old way puts the onus on the client, i.e., corporate legal teams & referral firms, to unite all pieces of information, and doesn't even consider how data-backed insights can help do it.
Now, there is the new and improved Jus Connect 2.0, the first professional network supporting the selection process for the entire arbitration ecosystem using data-backed insights and the first tool to make legal professionals generally available to everyone using technology.
Here is what to expect in Jus Connect 2.0
1. New interface with improved accessibility to profiles and filters:
Looking for a referral law firm in oil & gas industry based in Argentina? No problem. Arabic-speaking lawyer based in Qatar but not of Qatari nationality? You got it!
Customize your search with different filters: type of case, industry, location, rules, treaty, gender, etc.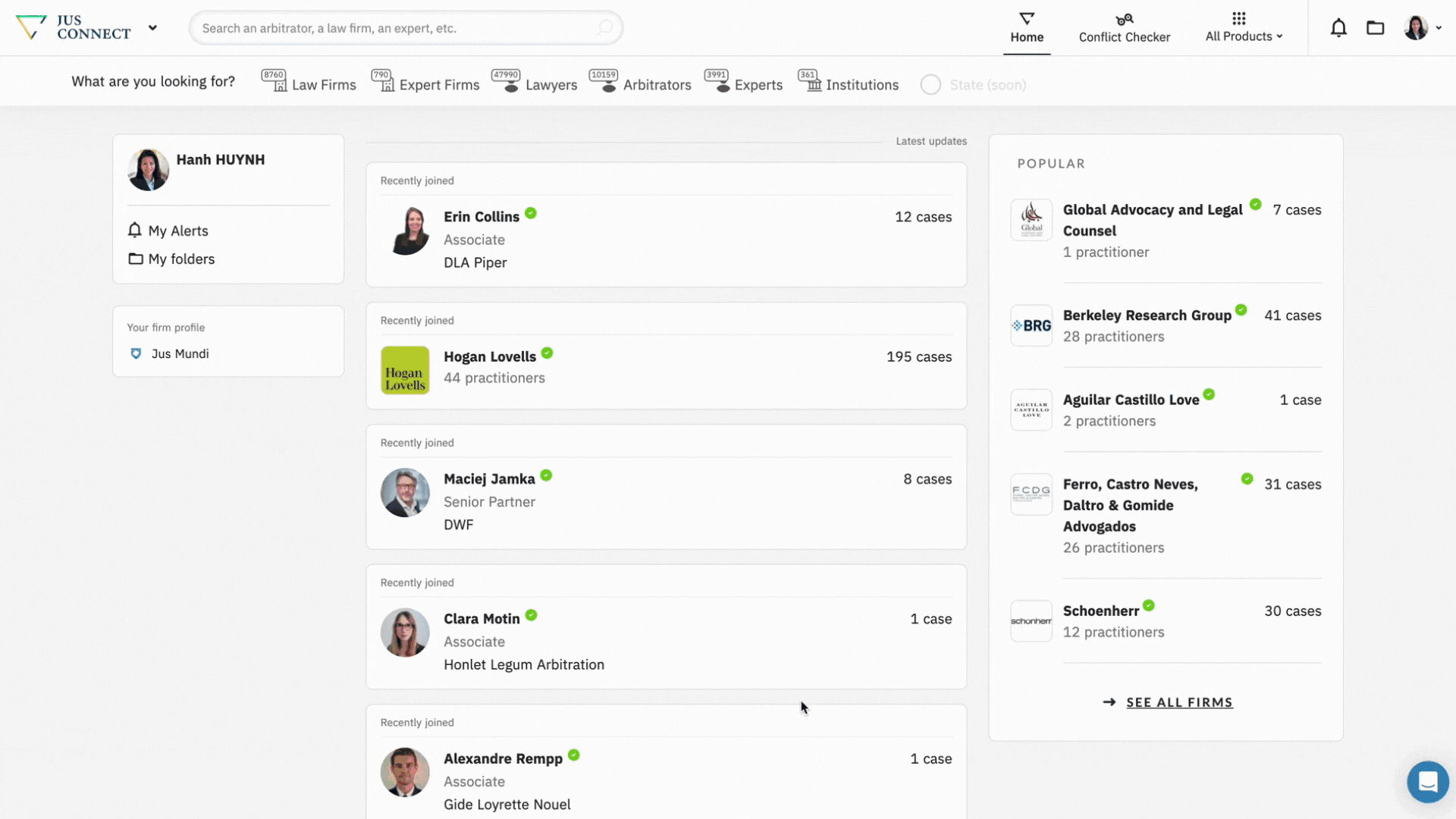 2. News feed, a first of its kind with more coming:
Jus Connect is a community, and we want you to feel like it's one. We have introduced the first version of the news feed displaying the individual or firm that recently joined the network.
Every community has popular members! Browse popular firms list. Coming soon are more features like the latest blog articles, profile updates, and more!
3. Ranking results on relevance
We improved our search engine to display the most relevant profiles. If you filter by law firms in the construction industry, the results will be ranked by the firm with the highest caseload of construction cases.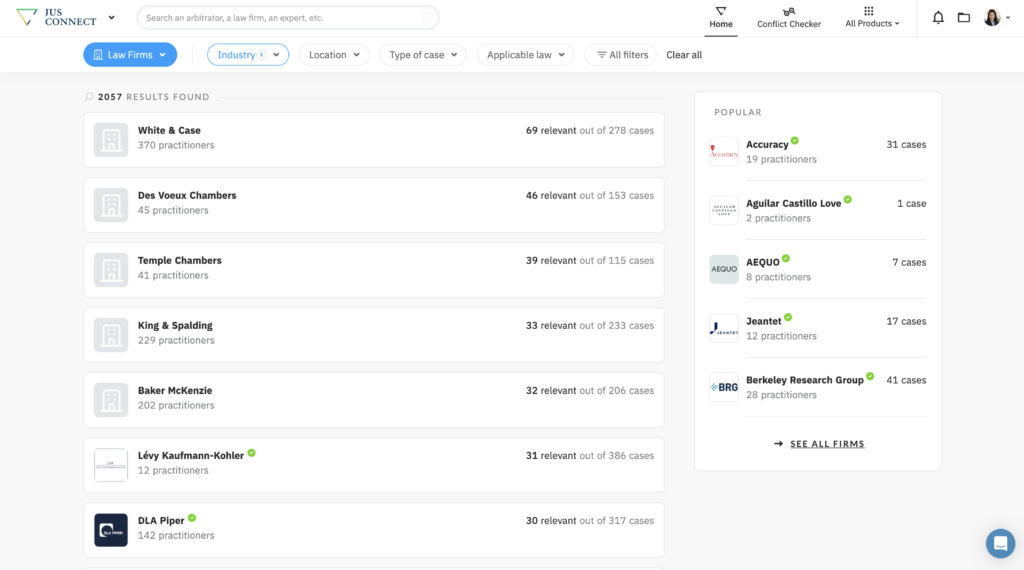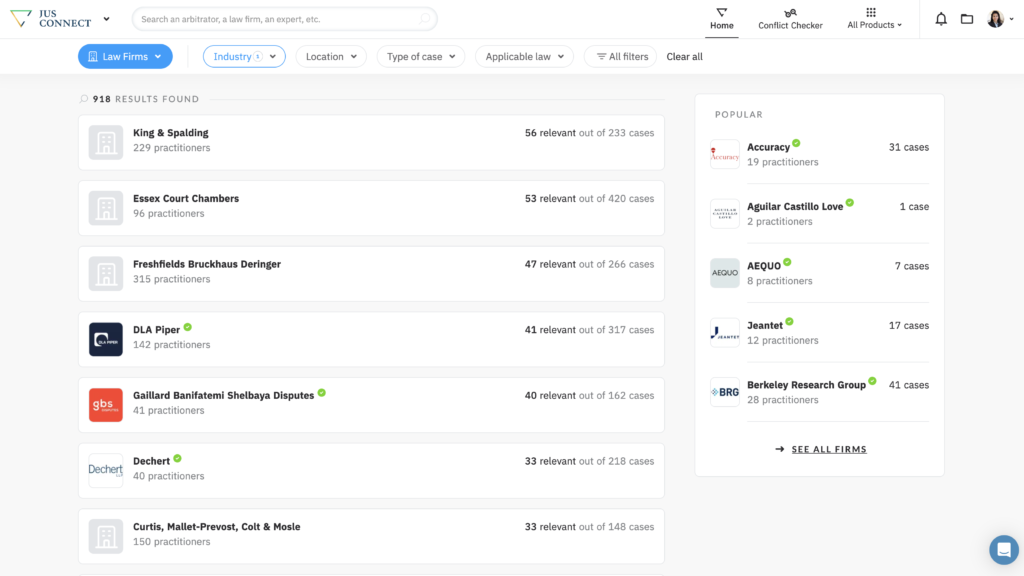 4. New total case count for claimed firm profiles
And now, for the best part: you can finally bring the track record of your practitioners in your team on your firm profile.
For example, your firm is tagged with 50 cases on Jus Connect & individual practitioners, based on their past & current experience, have 100 cases. The total count for your firm profile will increase to 150.
It also helps you to be ranked higher in the search results! To activate this feature, you need to claim your firm profile.
Data directs. Excellence connects.
We are transforming the process of choosing arbitration professionals, making it objective and data-driven, ensuring that every arbitration team leverages premier insights for decisions that bolster fairness and success.
Join now: www.jusconnect.com