This ranking was featured in our 2023 Mining Arbitration Report, which is part of a series of industry-focused arbitration reports edited by Jus Mundi and Jus Connect.

This issue explores the mining industry and presents a goldmine of information based on data available on Jus Mundi and Jus Connect as of February 2023. Discover updated insights into mining arbitration and exclusive statistics & rankings, as well as in-depth global and regional perspectives on mining projects, disputes, & arbitration from leading lawyers, arbitrators, experts, and in-house counsel.
---
We looked at all the Mining & quarrying arbitration cases available on Jus Mundi to gather data showing the popularity of each arbitral institution in the sector.
While parties opted for various local and international arbitration institutions for their mining disputes, a survey of our data revealed 34 main arbitral institutions that have administered mining arbitrations over the years. Ad hoc arbitration is also very popular in mining disputes.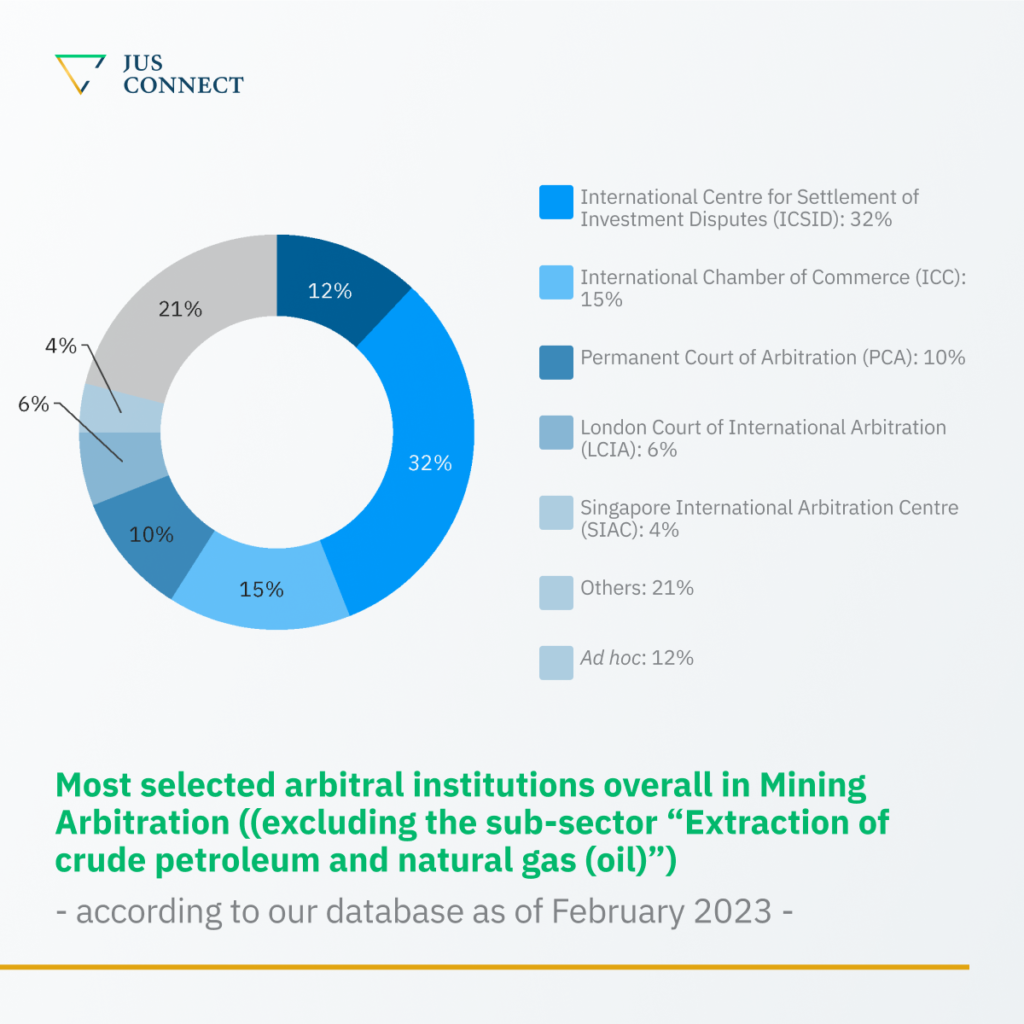 Key Takeaways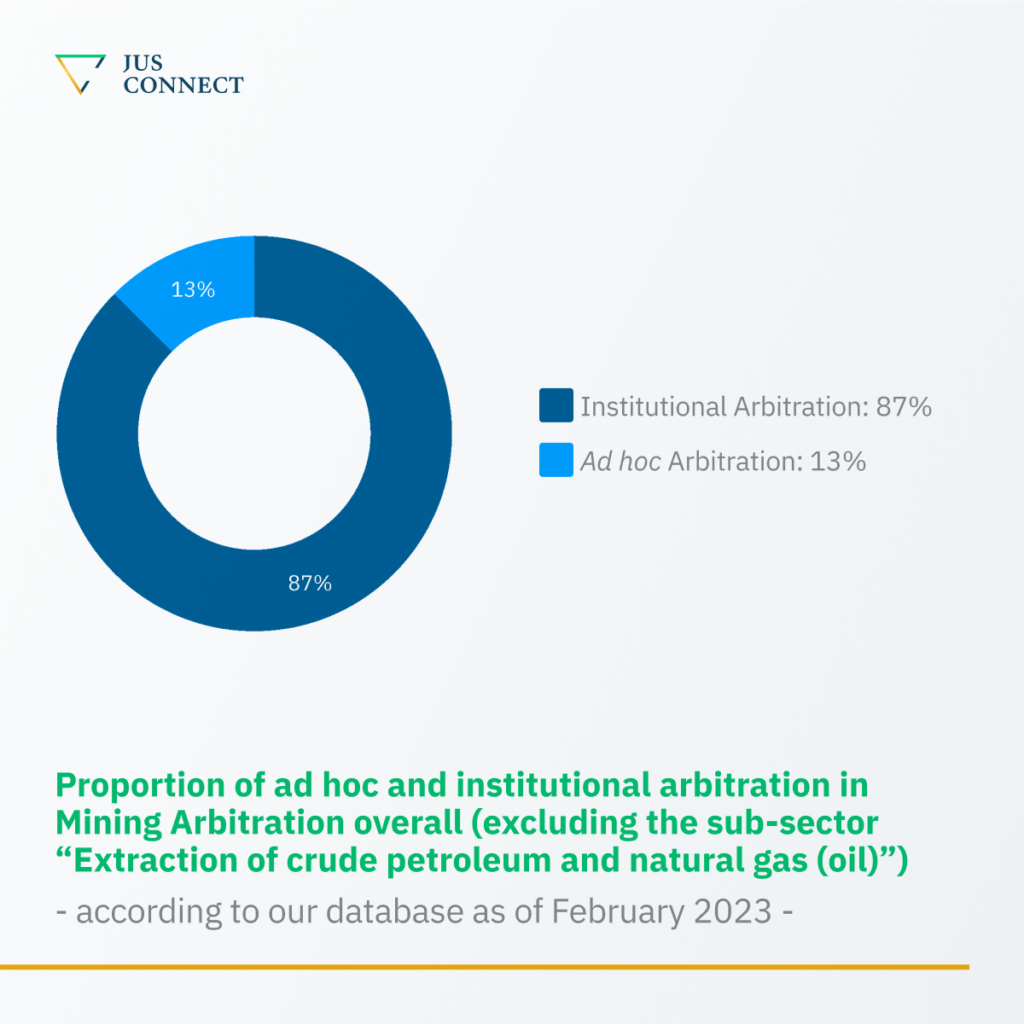 Ad hoc arbitration is used in the sector but far from the levels seen in maritime arbitration, where ad hoc arbitration was used in 76% of cases available on Jus Mundi as of May 2022. It is used both in investment and commercial arbitrations in the sector, but predominantly used in commercial arbitrations.
Parties choose ad hoc arbitration in mining disputes about as much as they do in oil & gas disputes and electricity & renewables disputes. They have been favoring institutional arbitration more and more over the years.
In fact, ad hoc arbitrations in investor-State disputes in the field have steadily decreased over the last decade. In the last 2 years, only two arbitration cases (out of 35) available on Jus Mundi are not administered by an institution, i.e., Bahgat v. Egypt (II) and Centerra and Kumtor v. Kyrgyz Republic (III). They are both conducted under UNCITRAL Arbitration Rules.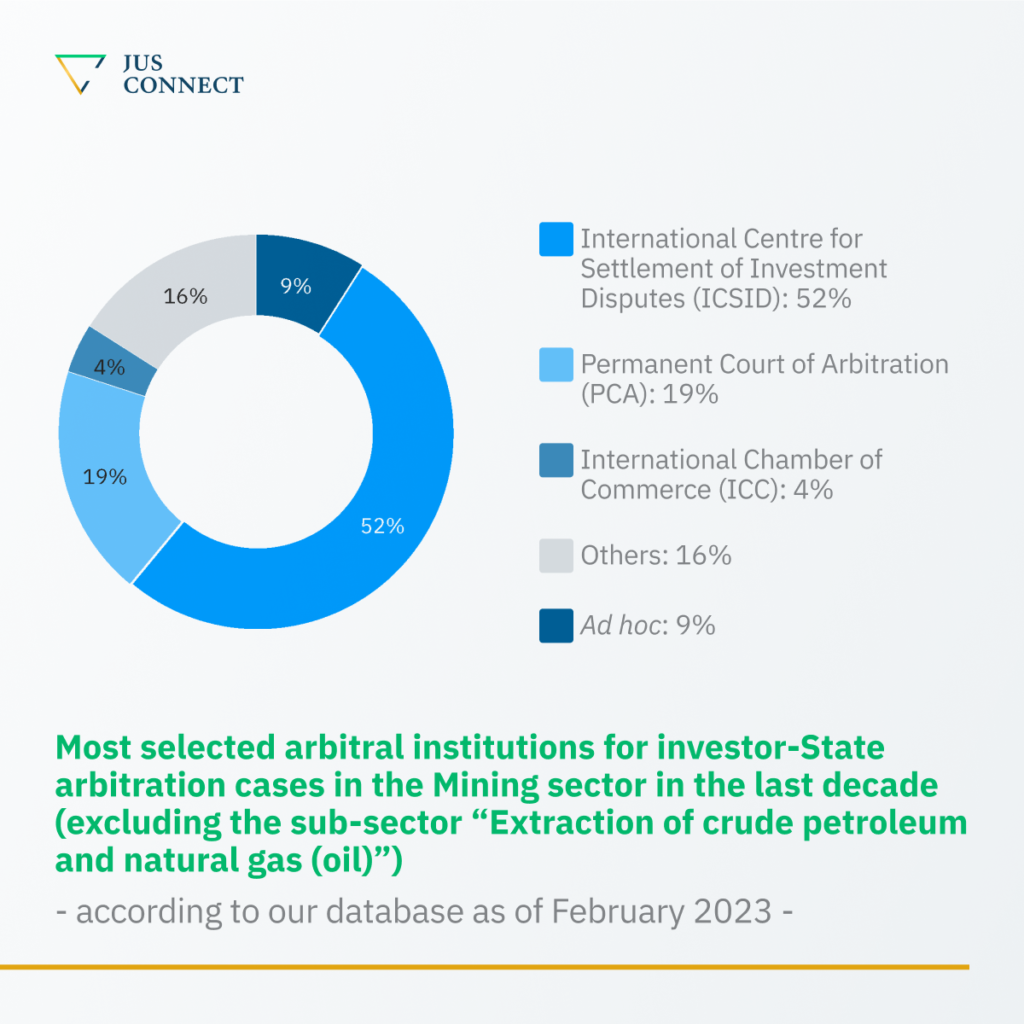 While ICSID administered 32% of all investor-State arbitrations in the mining & quarrying sector, ICC and the PCA have handled a growing caseload of investor-State arbitrations.
Although ICSID is a staple of the ISDS regime, the regime itself has come under increasing criticism in the last decade, so much so that it has been said to be facing a legitimacy crisis. This was supposedly the reason Bolivia and Venezuela denounced the ICSID Convention in 2007 and 2012 respectively, as well as Ecuador in 2009 (which ended up signing the ICSID Convention again in 2021). It also led to the demise of the intra-EU ISDS system in the wake of the CJEU landmark decision in Slovak Republik v Achmea BV.
The amendment of the ICSID Rules and Regulations – which entered into force earlier last year on July 1, 2022 – has therefore been a welcomed development in addressing the ISDS regime's legitimacy crisis. Among other changes, the Rules now provide for greater transparency, which is essential, as noted by the tribunal in Vivendi v. Argentina (II):
"public acceptance of the legitimacy of international arbitral processes, particularly when they involve states and matters of public interest, is strengthened by increased openness and increased knowledge as to how these processes function" (para. 22).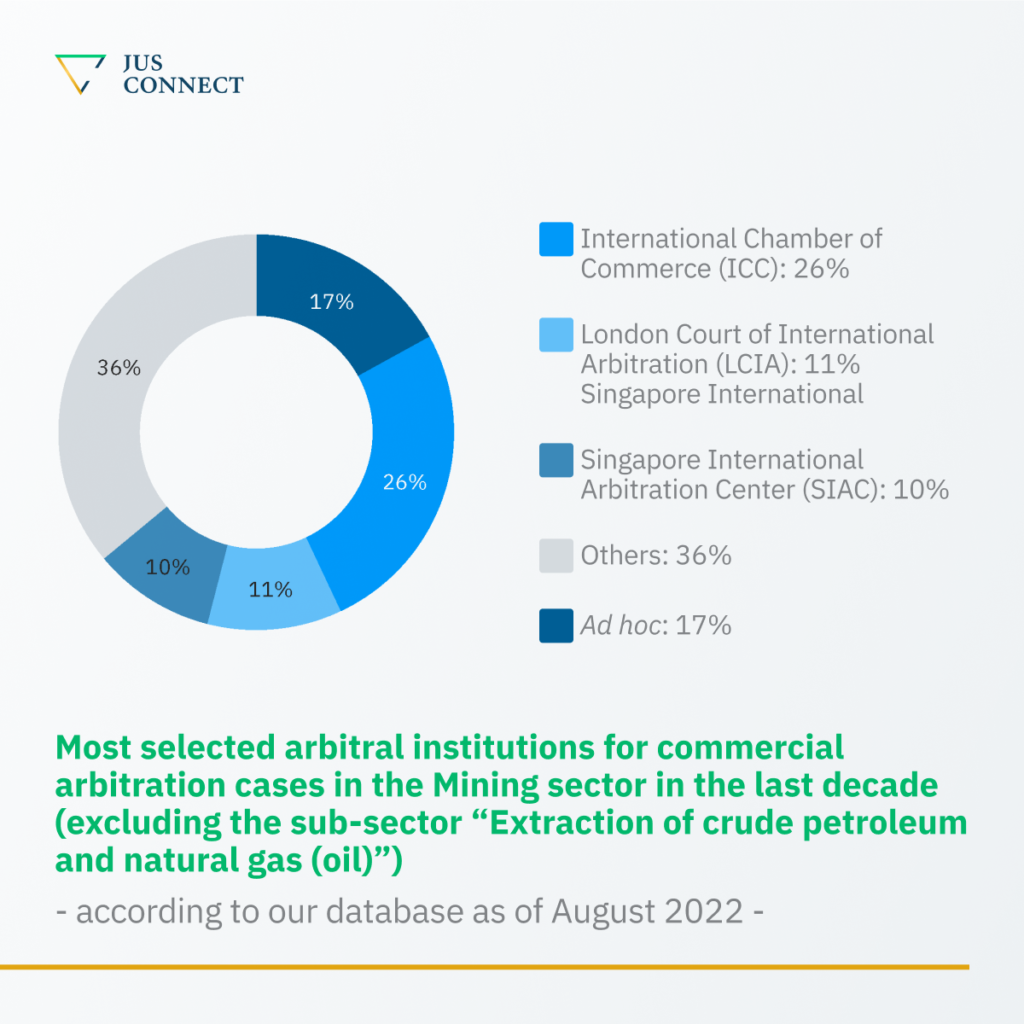 ICC is the top arbitral institution in commercial arbitration of mining disputes.
In 2021 and up to February 2023 only, out of 35 mining arbitration cases filed and available on Jus Mundi, 11 are commercial arbitration cases, including 7 administered by ICC.
Ad hoc arbitration seems to remain popular in commercial mining disputes, unlike in investor-State disputes. The flexibility it offers may be responsible for its success.
Although our data on LCIA arbitrations are more limited than for other global arbitral institutions compared to the size of its caseload, LCIA comes out as the second most used arbitral institution in commercial mining disputes, according to our data. Its mining arbitration caseload has been growing over the last decade.
Latin American institutions are on the rise, especially in commercial arbitration. According to information released by the Center for Arbitration and Mediation Brazil-Canada (CAM-CCBC), in 2020 and 2021, more than 230 new cases were registered, which led CAM-CCBC to achieve the landmark figure of 1,311 administered arbitrations. In 2021, the total of the sums disputed in these cases amounted to BRL 5.6 billion, while the average amount in dispute reached BRL 43.7 million.
---
Find more data-backed insights in our 2023 Mining Arbitration Report