Part III: Arbitration Team of the Year Awards 2021
To close 2021 on a high note, Jus Mundi is proud to be announcing the winners of the Arbitration Teams of the Year (ATOY). This year, we are presenting this award to law firms in the following categories: Female Empowerment Award, Commercial Arbitration Activity Award, and Transparency Award.
Facilitating access to global legal resources is one of the core values of Jus Mundi & we support all initiatives aimed at increasing transparency and accessibility to resources in international arbitration.
The IBA x Jus Mundi Partnership is the first collaborative initiative to address the global inaccessibility issue in commercial arbitration, by collecting non-confidential commercial arbitration awards and related case documents worldwide and making them easily accessible to the global legal community. The partnership's goal is to shape the development of international arbitration and increase access to legal information for arbitration by bringing together the international arbitration community.
For 2021, we are featuring Debevoise & Plimpton, Ferro, Castro Neves, Daltro & Gomide Advogados, and Hughes Hubbard & Reed showing appreciation for 168, 41, and 30 contributions respectively, through the IBA x Jus Mundi partnership. We recognize these firms' efforts to promote transparency in international arbitration and increase accessibility in commercial arbitration. If you would like to become a contributor and get recognized for your contributions, please send the contributions here.
We had a chat with all contributors, don't miss their interviews below!
1. Debevoise & Plimpton LLP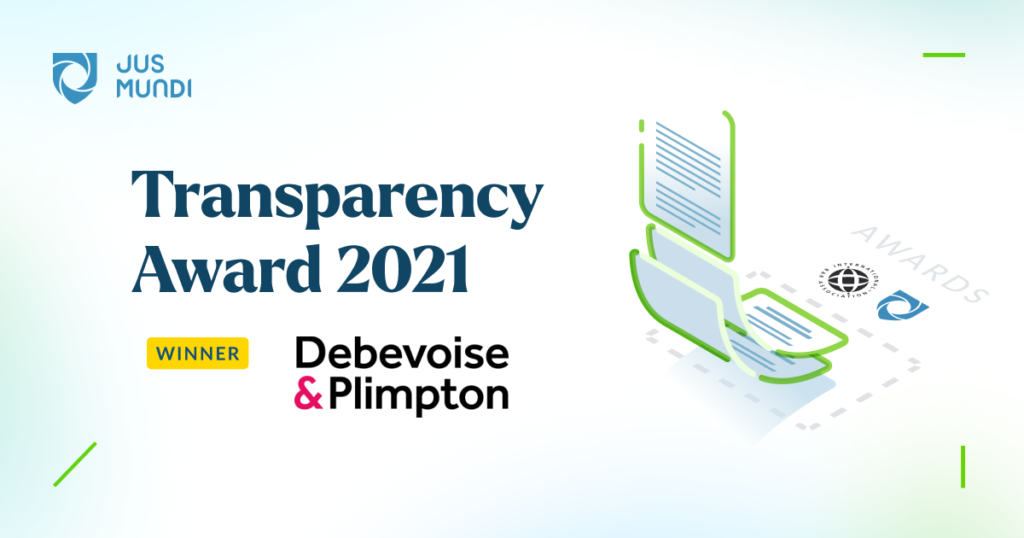 Congratulations on the Transparency Award, and we appreciate the firm's contributions through the IBA x Jus Mundi partnership! Dietmar, as an officer of the IBA Arbitration Committee, can you share the impact of the IBA x Jus Mundi collaborative partnership?
In 2019 and 2020, I served together with Cao Lijun as co-chair of the IBA Arbitration Committee's Subcommittee on the International Commercial Arbitration Case Law. One of the key purposes of the Subcommittee is to collect publicly available international commercial arbitration decisions and awards from all major jurisdictions in the world and make them available on a publicly accessible platform. At the time the Subcommittee embarked on this mission, there existed no comprehensive database of publicly available international commercial arbitration awards. However, the Arbitration Committee believed that the creation of such a database would be important as access to international commercial arbitration awards can strengthen the legitimacy of international arbitration and contribute to the development of the law. In Jus Mundi, the Arbitration Committee found the ideal partner for this project. Jus Mundi had been embarking on a similar mission, and agreed to make available our joint collection of international commercial arbitration decisions and awards to the public at large at no fee. Since I stepped down as the co-chair of the Subcommittee, it has been a true pleasure for me to observe how the joint IBA-Jus Mundi database has continued to grow and has become a truly global resource of publicly available international commercial arbitration awards.
Ina, as a Member of the ICC International Court of Arbitration, can you share with us ICC's recent transparency measures have been adopted to respond to the needs and concerns of users?
Transparency has been a key objective of the ICC for some time because it provides greater confidence in arbitration as a means of dispute resolution, facilitates access to justice, and promotes a global rules-based order. Recent initiatives have enhanced transparency on several fronts: the composition of tribunals, required disclosures, the substance of tribunal decisions, and even the ICC Court's decisions.
Since January 2019, ICC awards and decisions may be published after at least two years, unless the parties opt-out, and the ICC has partnered with Jus Mundi to make easily available all publishable ICC awards. Any party may request that the ICC Court provide reasons for certain decisions. The ICC also publishes a wide range of information about tribunals and cases. Arbitrators' caseload, nationality, role within the tribunal and method of appointment has been published on the ICC's website since 2016, and this database is continuing to expand. The industry sector and counsel representing the parties were added in January 2020, and the names of administrative secretaries in July 2021 for arbitrations registered this year. And the 2021 amendments to the ICC Rules provide for disclosure of parties with an economic interest in the arbitration, as well as enhanced disclosure in treaty cases.
All of these initiatives demonstrate the ICC Court's commitment to make arbitration more transparent without compromising confidentiality for the parties. As a member of both the ICC Court and the IBA's Subcommittee on International Commercial Arbitration Case Law, I've been so excited to see these developments take shape.
Could you share your view on the enhanced use of technology by the firm to support and improve the practice of international arbitration?
Our group has long been at the forefront of developing the practice of international arbitration. Our industry standard-setting Efficiency Protocol, Protocol to Promote Cybersecurity in International Arbitration, Business Integrity Screen, and COVID-19 Resource Center are just a few examples of how we try to leverage our practical experience to better serve our clients and the business community in general. Technology is no exception.
Despite the challenges posed over the last 18 months, our team quickly transitioned to a virtual office and hearing room. Two milestones were participating in one of the first virtual hearings of the International Court of Justice and the first virtual argument before the UK Supreme Court, as well as virtual hearings in multiple other commercial and investment treaty arbitrations.
Building on the lessons learned from this experience, we have continued our thought leadership through practical guidance. Mark W. Friedman, Co-Chair of our International Dispute Resolution Group and a former Vice President of the ICC Court, contributed to the ICC Guidance Note on Possible Measures Aimed at Mitigating the Effects of the COVID-19 Pandemic, which was published in early April 2020. The Guidance Note identifies ways to minimize COVID-19-related delays in accordance with the ICC Arbitration Rules, including by offering guidance on virtual hearings and suggested clauses for cyber protocols and procedural orders dealing with their organization.
In addition, our partner David W. Rivkin delivered an address at the 41st ICC Institute Annual Conference in November 2021, focused on Technology and Arbitration: Revisiting the Paradigms of Case Management. David unveiled his proposal for Town Elder Arbitration Rules, which contemplate a novel decision-tree approach to arbitration made possible by the enhanced use of technology, involving the resolution of matters on an issue-by-issue basis. These new rules would also work as a supplement and an amendment to the UNCITRAL Arbitration Rules.
In general, at a time when international arbitration practice is experiencing challenge and change, technology can help us meet a new landscape, not a simple return to what came before.
Presentation of the Firm
The Debevoise International Dispute Resolution Group is a recognized leader in international arbitration. Since the 1970s, when the firm secured a substantial win for Texaco Overseas Petroleum Co, against Libya in the landmark TOPCO arbitration, the firm has represented a wide range of clients—be they multinational corporations, sovereigns, international organizations, NGOs or individuals—in their most challenging cases. The practice spans cases under all of the major arbitration rules, before international tribunals, including the ICJ, and national courts.
More than four decades later, the team continues to maintain one of the world's foremost and most diverse international dispute resolution practices.
Debevoise is one of a few firms to successfully combine leading practices in international commercial arbitration, investment treaty arbitration, public international law, and international litigation. Their partners hold leadership roles in the major arbitral institutions and professional associations in the field: the group includes the current and former Presidents of the American Society of International Law (ASIL), the former President of the International Bar Association (IBA) and Co-chair of the IBA Arbitration Committee, and the former President of the International Council for Commercial Arbitration (ICCA). The collective experience of their 15 international partners and their exceptional cadre of counsel and associates, working out of 10 offices across several continents, is unmatched. Each member of the team is a distinguished practitioner in their own right, and together they are a global powerhouse for international disputes.
The firm was also featured as Arbitration Team of the Month by Jus Mundi.
Key Clients
Debevoise has extensive experience acting as counsel to both claimants and respondents, including sovereigns, in investor-State disputes as well as in inter-State matters and a broad range of commercial disputes.
A select list of the firm's client representations include Barrick (Niugini) Limited, Barrick (PD) Australia Pty Limited, Discovery, Inc, Freeport-McMoRan Inc, Gramercy Funds Management LLC, Perenco Ecuador, Qatar Airways, SMM Cerro Verde Netherlands B.V., State of Qatar, Tethyan Copper Company Pty Limited (jointly owned by Antofagasta Minerals S.A. of Chile and Barrick Gold Corporation of Canada), The Republic of Iraq, and The World Health Organization
Track Record Highlights
In 2020-2021, the firm handled more than 100 international matters involving parties from over 30 countries with a total value in excess of $77 billion. Over the last 12 months, Debevoise achieved significant victories for several clients on impressive and precedent-setting matters across the practice, including the following:
Defending Perenco Ecuador in its BIT arbitration against Ecuador with an award worth over $390 million. The firm is currently representing Perenco in enforcement proceedings in the US and the UK;
Defeating claims of over $650 million against Iraq, in an ICSID arbitration brought by Kuwaiti company Agility Public Warehousing;
Representing Tethyan Copper Company, in a $6 billion arbitration win against Pakistan, which is the second-largest ICSID award ever rendered;
Representing Qatar as lead counsel in a series of high-profile public international law disputes, including in its case before the ICJ under the Convention on the Elimination of All Forms of Racial Discrimination related to the expulsion of Qataris from the UAE; and two complaints before the International Civil Aviation Organization (ICAO) Council, in which Qatar complains of violations of the Chicago Convention and the International Air Services Transit Agreement by the UAE, Saudi Arabia, Bahrain and Egypt through closing their airspace to Qatar;
Defeating efforts by Albania to annul the award received by Francesco Becchetti and five other Italian investors arising out of the claimants' investments in a media company, winning a historic clean sweep for its client;
Achieving a complete victory in defending Gulf LNG in an ICDR arbitration commenced by Angola LNG Supply Services LLC and winning dismissal from the Delaware Supreme Court of Eni Gas Marketing USA's attempt to launch a second arbitration against Gulf LNG;
Winning a judgment on behalf of The World Health Organization ("WHO") by successfully asserting its privileges and immunities and obtaining dismissal of a case in US courts, alleging claims based on WHO's response to the COVID-19 pandemic;
Successfully representing a Japanese pharmaceutical company in a $400 million dispute with a US pharmaceutical company under a licensing agreement involving international arbitration under the ICC Rules.
---
2. Ferro, Castro Neves, Daltro & Gomide Advogados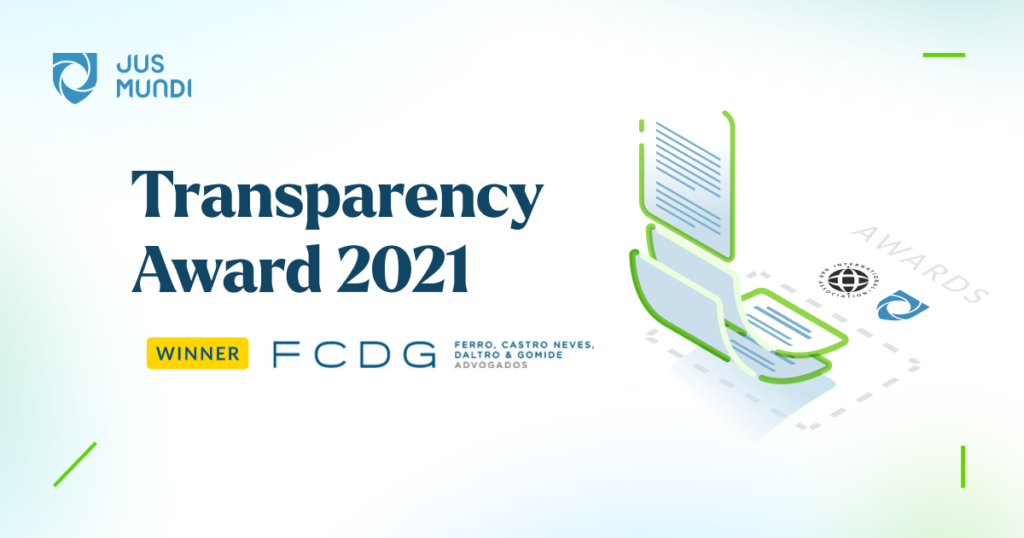 Presentation of the Firm
Ferro, Castro Neves, Daltro & Gomide Advogados (FCDG) is a law firm established in 2005 by a group of renowned and highly experienced professionals who shared the aspiration to offer their clients superior law services in a dispute resolution boutique.
FCDG has reported remarkable activity growth, upholding a predominant position in the market, especially regarding commercial arbitration. The firm is distinguished on its superb dispute resolution expertise to act on sophisticated mandates. Major corporations hailing from the construction, automotive, and financial sectors frequently retain a deep bench to assist with high-value arbitration and litigation cases. The practice maintains an outstanding track record handling corporate and commercial matters, such as breaches of contracts and shareholders' disputes.
Key clients
Abílio Diniz, Andrade Gutierrez, Brasil Oleo e Gas Ltda, Brasil Plural, Camargo Correa, Cervejarias Kaiser, Cosan, Ekanprel Sociedad Anonima, Eletrobras, Energia Sustentável do Brasil, Enseada Indústria Naval, Equinor, Google Brasil, Grupo Multi, KKR Private Equity Fund, Norsk Hydro, Renova.
Track record highlights
Representing CA Investment in the set-aside proceedings of a multibillion-dollar M&A dispute.
Represented Docas and JVCO in a US$150 million ICC claim against a Brazilian mobile operator TIM concerning an accusation of fraud in a merger deal.
Represented Sequip in a claim worth 305 million reais concerning financial service activities.
---
3. Hughes Hubbard & Reed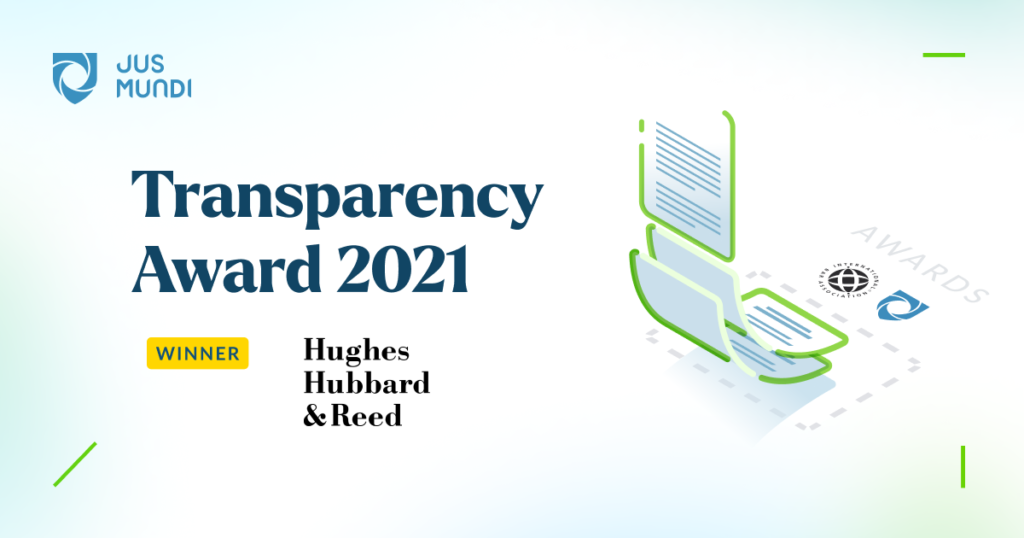 Congratulations on the Transparency Award, and we appreciate the firm's contributions through the IBA x Jus Mundi partnership! What do you think of this collaborative initiative to address the global inaccessibility issue in commercial arbitration? what motivated you to participate in the partnership?
We think it is a terrific initiative, which is why we were delighted to contribute to it. We were motivated to participate by the fact that, over the years, we had collected awards from the dockets of various courts in the United States. In other words, these documents were already publicly available, although perhaps somewhat difficult to access. For many, you would not find them unless you specifically went looking for them. We thought, "Why not make these awards easier to find?"
What do you consider as the starting point of committing to transparency in arbitration? What are your thoughts on the outcome of global transparency of arbitration where the parties consent to (redacted) publication?
The starting point must be the parties themselves. Transparency is much less of a concern in the context of commercial arbitration than it is in the context of arbitration between states or investor-state arbitration. In fact, the privacy of proceedings is one of the primary benefits of international commercial arbitration. But sometimes the parties choose to open up those proceedings to the public. Parties that agree at the outset to redacted publication of any award are doing a service to the broader public by providing insight into the international commercial arbitration process. But there are other ways that parties may give the public access to their proceeding. For example, when a party refuses to pay an adverse award and forces the other party to ask a court to enforce it, then the underlying award may become publicly available. This is how many of the awards that we contributed to Jus Mundi became publicly available. When that happens, the broader public should take advantage of the opportunity to peek under the hood and get a sense of how international commercial arbitration works.
What message do you want to give to the arbitration community for the new year 2022?
Congratulations on not only surviving the pandemic but thriving. It has been a challenging time for the entire community, but arbitration has demonstrated its resilience and flexibility in the face of adversity.
Presentation of the firm
Hughes Hubbard is widely recognized as having one of the foremost arbitration practices in the world, with a team of more than 50 lawyers serving as counsel or arbitrator in numerous international commercial, investor-state, and state-to-state arbitrations conducted in all parts of the world. Their lawyers are multilingual, having represented clients in arbitration proceedings in English, French, and Spanish, and many of our attorneys are qualified to practice in both common law and civil law jurisdictions. The firm has conducted arbitration proceedings or sat as arbitrators in all parts of the world under all major arbitration rules and procedures, including the rules of the AAA, ICDR, ICC, LCIA, Stockholm Chamber, Hong Kong Centre, Singapore Centre, DIAC, KIAC, Netherlands Arbitration Institute, Vienna Center, and ad hoc under UNCITRAL and other rules. These have covered a wide range of industries and types of disputes.
Hughes Hubbard is particularly skilled in the field of investment treaty arbitration under the rules of the International Centre for Settlement of Investment Disputes (ICSID), UNCITRAL and the Permanent Court of Arbitration. The team has extensive experience with cases both for and against sovereigns in disputes under bilateral investment treaties and similar instruments, including the Energy Charter Treaty.
Firm founder Charles Evans Hughes started the firm's arbitration practice. In 1926, Hughes was appointed as a member of the International Court of Arbitration at the Hague and in 1928 served as a US delegate to the Pan-American Conference on Conciliation and Arbitration. Today, Hughes Hubbard arbitrators continue to act as leaders in major arbitral institutions.
Key clients
Aeroport Belbeck LLC
Everest Estate LLC
Global Gaming Asset Management
American Arbitration Association
The Republic of Equatorial Guinea
Deutsche Telekom
Westwater Resources, Inc.
IBT Group LLC
Track record highlights
Represented Aeroport Belbeck LLC, Everest Estate LLC, PJSC Ukrnafta, Stabil LLC, and JSC PrivatBank in five ground-breaking investment treaty arbitrations against Russia under the Russia-Ukraine BIT to recover for the loss of investments by Ukrainian investors in Crimea that were taken by Russia after its military occupation and annexation of the Crimean Peninsula.
Secured complete victory for Canada in a series of disputes with the US over alleged subsidies to Canadian softwood lumber exports.
Served as lead counsel in obtaining a nearly $300 million damages award on behalf of Global Gaming Asset Management (GGAM), a Las Vegas-based casino operator and an affiliate of Cantor Fitzgerald, in its long-running dispute with Bloomberry Resorts, owner of the premier casino gaming resort in the Philippines.
Hughes Hubbard delivered an important victory for firm client American Arbitration Association (AAA), when it helped secure denial of a request for a preliminary injunction by ride-hailing app Uber in its bid to suspend AAA's $10 million invoice to the ride-hailing giant for administrative costs associated with 7,771 arbitration cases.
Secured complete victory for Mystique Brands LLC, a former importer and marketer of liquor and spirits in the US, in a breach of contract arbitration against Cognac Ferrand SAS, a French cognac manufacturer.
Congratulations to the teams again, and Jus Mundi wishes them good luck for the future!